THE BUYING PROCESS
Even if you have bought or sold a home before, the process can still be confusing. This roadmap chart will help you better understand the steps involved in your transaction. My job is to tie them together as smoothly as possible for you, keeping you informed every step of the way.
PLEASE NOTE
:
As of June 15th, 2018 REALTORS may no longer represent BOTH the Buyer & Seller in the same Real Estate transaction. New disclosures for sellers & buyers, were instituted by the Superintendent of Real Estate and are now manditory.
WHAT THIS MEANS TO YOU:
The REALTOR who lists a property for sale can no longer represent a Buyer wanting to purchase that same property. (This was known as "Limited Dual Agency").
While a Buyer may still represent themselves (no REALTOR representation) when purchasing a home, as of June 15, 2018, new disclosures will need to be signed by the Buyer alerting them to the inherent risks of doing this.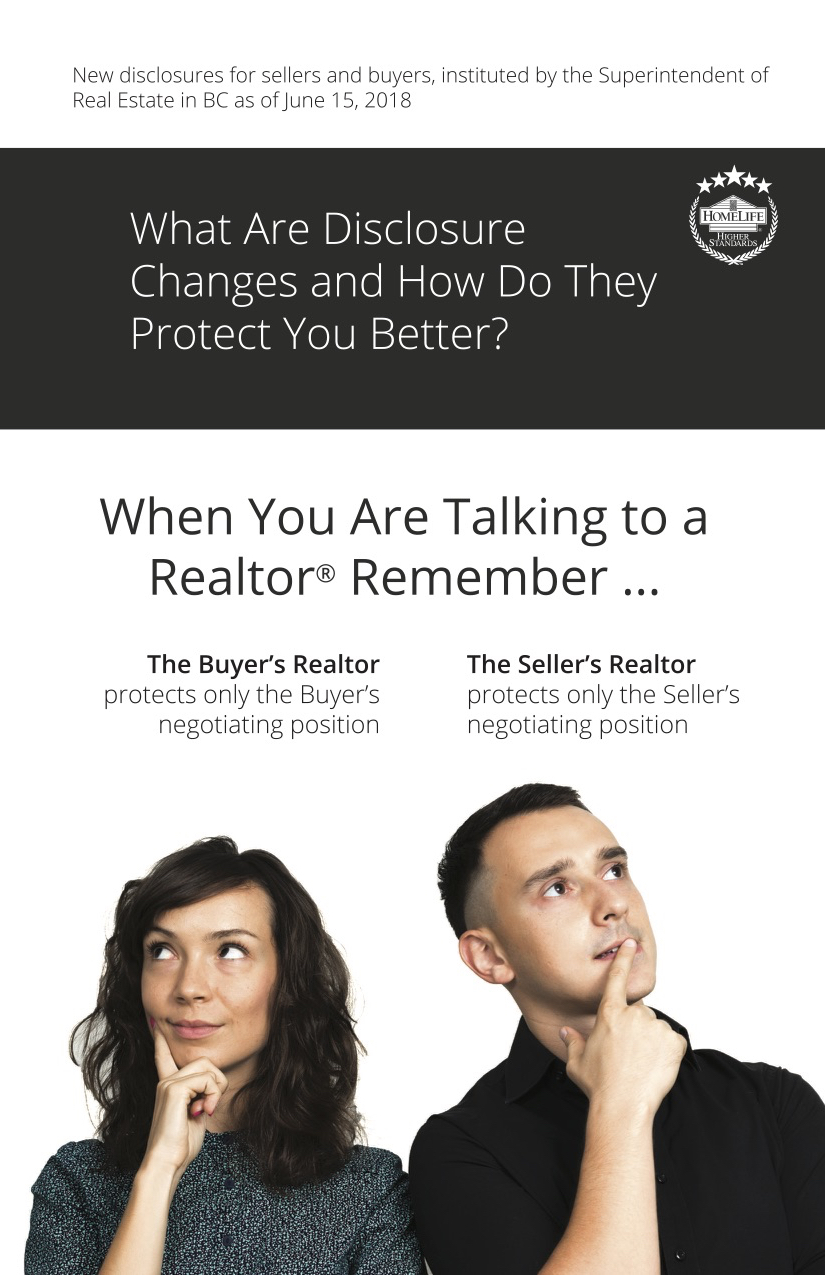 Know Your Options
If you are going to be Buying Real Estate then one of the first decisions you will need to make is whether you should work with a licensed real estate professional who will represent you.
Take a moment to read this important consumer protection information from the Real estate Council of BC. YOU are going to need your OWN Realtor to protect only your interests and not those of the Seller.
This has alway been a fact when it comes to your BEST interest that most buyers were not aware of. Now that the rules have changed as of June 15, 2018 a Realtor must present and explain to you DISCLOSURE OF REPRESENTATION IN TRADING SERVICES before any further discussion regarding "Real Estate Trading Services" are discused.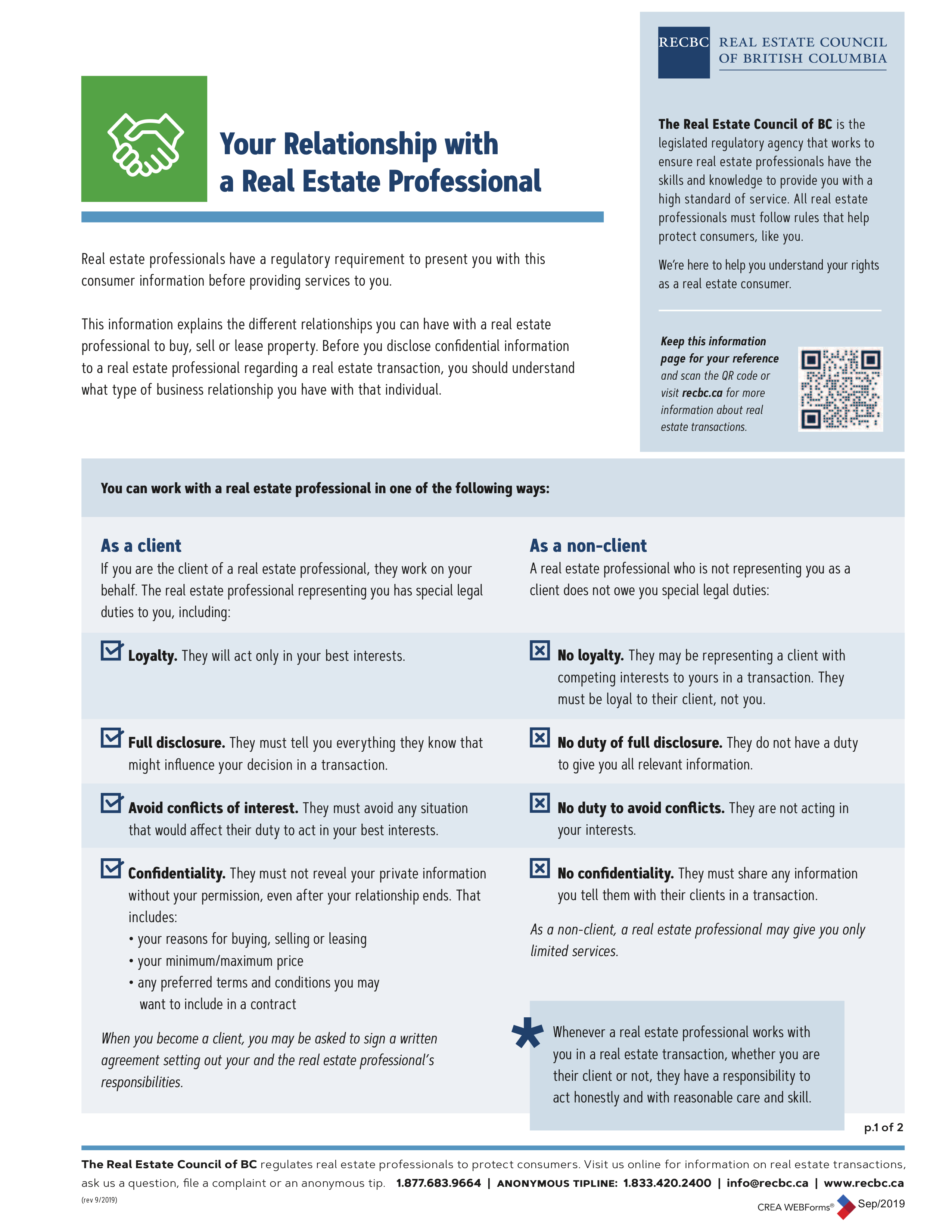 Know the Risks
Before you enguage in any conversations regarding "Real Estate Services" the Realtor must stop you from further discussion to present and explain to you your options moving forward. This is mandatory and penalties and displine may apply to the Realtor for failure to disclose this information to you for your protection. Your signed acknowledgement is required.
If you are going to be Buying then one of the first decisions you will need to make is whether you should work with a licensed real estate professional who will represent you.
If you chose NOT to be represented by a Realtor you again will be presented with a DISCLOSURE OF RISKS TO UNREPRESENTED PARTIES for which you again will be explained and your signed acknowledgement is required before the Realtor moves forward with "Real Estate Trading Services". Take a moment to read this important consumer protection information from the Real Estate Council of BC.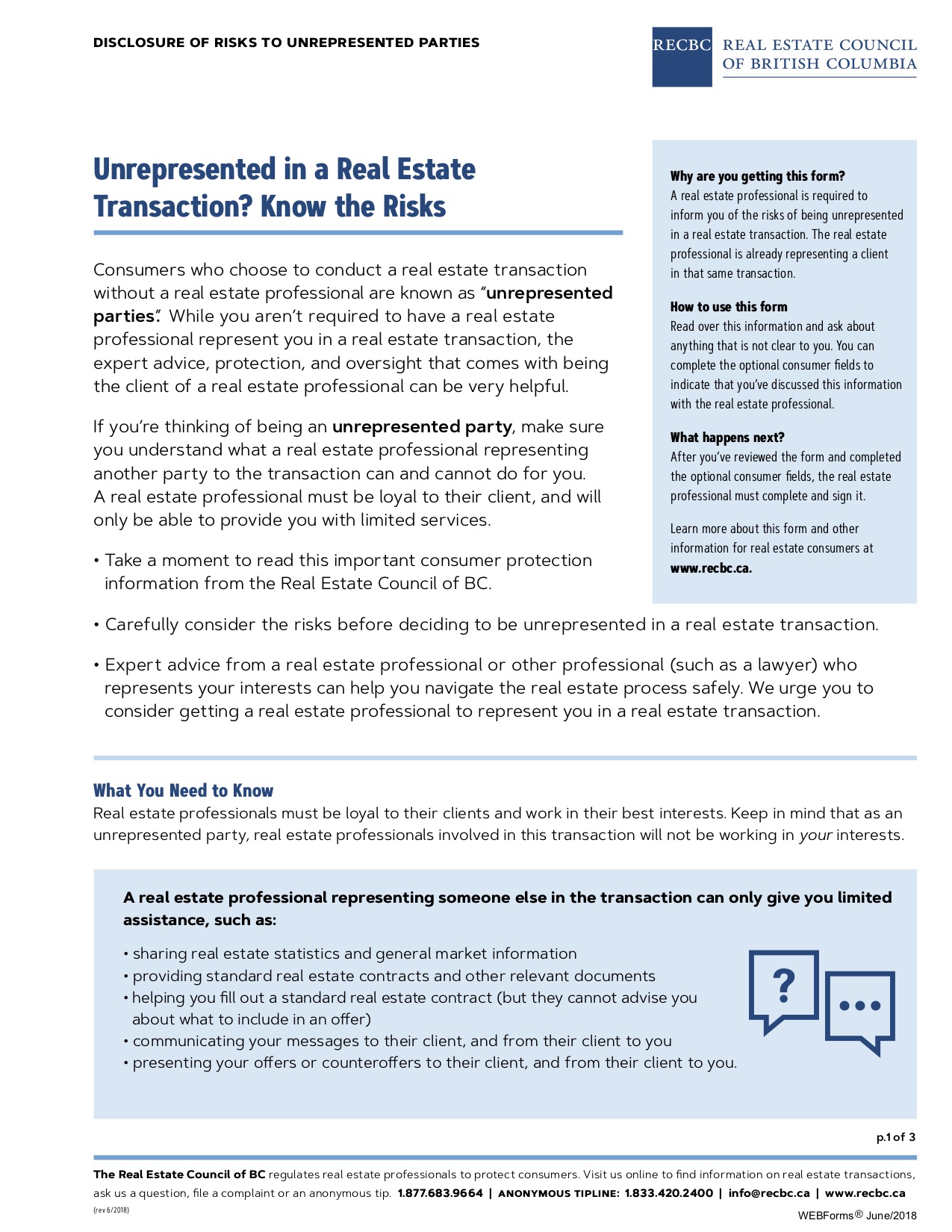 Next Steps
When purchasing a home, you are faced with a multitude of decisions! The primary one is whether you are actually prepared to purchase a home. Locating the perfect home is not always an easy task as there are many aspects to consider.
Although, once you have determined that you are ready to move forward with the required effort towards your home purchasing goal, the rewards are unquestionable.
I will make the process of purchasing a home easier, more enjoyable, less time consuming, and less expensive than if you undertook this challenge on your own. I will help you prepare so that sellers perceive you as a preferred buyer, help you locate and assess properties for sale that match your specifications, and help you through the myriad of details attending the actual purchase.
I am always familiar with the current homes on the market, and I know neighborhood values well, so I can help you determine which properties are fairly priced and in good condition before you start your search.
I will also guide and coach you on the things to avoid and watch out for on each property.
1St Things First
Your first step to buying a home is to first ask yourself why you want to buy a home: To stop paying rent? To start building equity? To have a place of your own? To raise a family? To entertain business associates? To move up to a bigger house? Next, list what kind of home you'd like and where you would like to be. Be specific. Separate the "must haves" from the "want to haves."
Think of yourself as zeroing in on a target, going from the general to the specific. Consider area (city, suburban neighborhood, country); community (north, south, east, or west side); neighborhood (older and settled or sparkling new; a particular school zone; recreational facilities; and other community services such as transportation, day care, library, stores, entertainment). Ask yourself how many minutes you are willing to commute to work.
Think about home styles. How much space do you need? Does your situation require a one-level home, or are stairs acceptable? Consider size and kind of property. Do you want a newer home, or maybe an older one to fix up? Someday you or your heirs will want to sell. Consider how long you expect to live in this particular home.
Get Qualified!
There is power in getting pre-qualified. Sellers prefer pre-qualified buyers and our chances of better negotations sometimes hinge on this important factor that many buyers neglect.
Call me and I will refer you to a mortgage professional that has an excellent reputation and track record for successfully acquiring loan approval for his clients.
Now Comes The Fun Part
Once you`ve been pre-qualified and know what price range you want to stay in, I can help you determine which properties fit your needs and send you listings to screen and narrow down.
Once we have a list of possibilities, I will further investigate your list to look for potential problems or concerns and report back with my comments on your selections. Then I will call and arrange all the nesessary appointment times and we go out together to the view the listings.
I have the best possible resources and communication systems available today to help you locate the homes on the market that match your specifications.
I will be you guide from start to finish
I will help you complete your financing and inspections, and close on the transaction. My top priority is to make sure that your home buying experience is pleasant, cost-efficient, and successful.
I look forward to working with you!